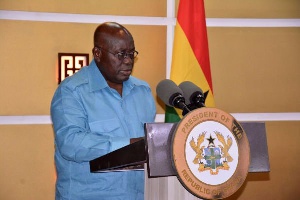 Former Member of Parliament (MP) for Akwatia constituency in the Eastern Region, Baba Jamal has threatened to lead a demonstration against former President John Mahama if the latter decides not to contest for the presidency again.
The former Deputy Minister for Employment and Labour Relations said the demonstration would happen because he believes that former President John Mahama is the obvious choice for the opposition NDC in the 2020 Presidential race.

According to him, the National Democratic Congress (NDC) is not prepared to start from the scratch by introducing a new Presidential Candidate in the 2020 elections as the party is poised to take over power from Nana Akufo-Addo's government in 2020.

Speaking on Accra-based Okay FM, the former deputy Minister for Employment and Labour Relations insisted former President Mahama must be forced to contest the flagbearer slot of the NDC since he's the only choice for the NDC.

"If President Mahama says he is not contesting again, we will demonstrate against him; we will march to his house to demonstrate till he consents to contest for the party because we don't have any leader apart from him," he said.
If he doesn't contest who will contest for us?" he asked.

He was of the firm belief that former President Mahama will contest for the NDC due to his love for the party and the people of Ghana.

He again mentioned that the achievements of former President Mahama is comparable to none in terms of leaders of the country; thus that makes him the obvious choice for the party, especially when Ghanaians have already regretted electing President Akufo-Addo.