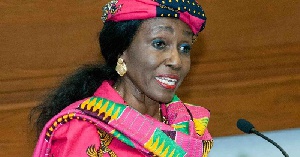 Flagbearer of the National Democratic Party (NDP) Nana Konadu Agyemang Rawlings says her inclusion in the December 7 presidential election is victory not for her but "the women of Ghana".
The former first lady will make history as the country's first female presidential candidate.

She will be second on the 2016 presidential ballots. Nana Konadu Agyemang Rawlings, who left the ruling National Democratic Congress (NDC) to found the NDP, was denied the opportunity to be on the 2012 ballots.

She was also initially disqualified by the Electoral Commission, Ghana (EC) but on Wednesday, November 9 was cleared to be part of the Wednesday, December 7 polls.

Speaking on TV3's The Key Point minutes after balloting for positions, Mrs Rawlings said her "fight" is "not for me". "It is a fight for the women of Ghana.
It is a fight for the youth of this country. Indeed, it is a fight for everyone who wants to see Ghana get into a situation of comfort, a situation of honesty, a situation of development that can actually make them feel that they belong to this country."

She said her message will be "to let people have hope. Hope for the future. Hope for our country". The former first lady said Ghanaians are living in poor conditions and "youths do not have jobs today". "We cannot be in a country where nothing seems to work."

She said her party's mantra of 'Our Nation, Our Future' will be central in their message to electorates.