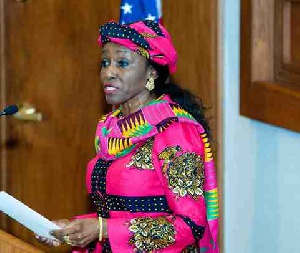 Leader and Founder of the National Democratic Party (NDP) Nana Konadu Agyemang Rawlings says her government – if she wins the December 7 elections – will invest in salt production factories.
She says sea water is free and that will not be difficult for the country to extract salt for the factories.

She said the end product will be of use to major firms, especially oil companies.

The former First Lady made this key policy from her party's manifesto known on Saturday, October 8 when she took the seat on Media General's The Platform.

She said rock salt is in hot demand across the world and Ghana can position herself as the leading exporter of such a product in Africa.
The former National Democratic Congress (NDC) vice chairman said such product will not only be consumed by locals but also would be readily available on African markets.

She pointed out that currently rock salt is produced by Brazil, Portugal and Spain and Ghana, under her presidency, will join this league.

The wife of Ghana's longest serving head of state said the salt factories will be set up in only four regions including the Greater Accra, Central and Western regions.

She also talked about clamping down on over-taxation, which she claims is burdening a lot of businesses in the country.