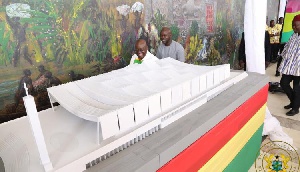 Deputy Minister for Information, Pius Enam Hadzide has said the idea of a National Cathedral for the republic of Ghana is to Akufo-Addo's credit.
He was speaking on Citi news programme, The Big Issue on Saturday.

Mr Hadzide also added that those who oppose the cathedral project are in the minority and that majority of Ghanaians support it. He however added that government was willing to listen to the argument of those agaisnt the project.

"It is my understanding that the National Cathedral was the president's idea." He said.

"Our understanding is that it has the support of a majority of Ghanaians but there are a few who disagree and we are ready to listen to these people," he added.

President Nana Addo Dankwa Akufo-Addo, unveiled the design architecture of the national Cathedral at a brief ceremony at the Accra International Conference Centre last year.


It would house impressive chapels and baptistery, a 5,000-capacity auditorium, grand central hall, music school, choir rehearsal and multi-use spaces, art gallery and a shop.

Vice President Dr. Mahamudu Bawumia and the Most Reverend Samuel Asante- Antwi, Chairman of the Board of Trustees of the Cathedral were among those present.

The President said the edifice was going to be an iconic centre for thanksgiving and to worship God for His mercies.

He called for all to find space to support the construction of the project.

President Akufo-Addo cut the sod for the construction of the Cathedral on March 06, 2017.

The design of the structure was done by Sir David Adjaye, an astute and internationally acclaimed architect, who said he drew inspiration from both Christian symbolism and Ghanaian heritage.
He added that the edifice would be a celebration of religion, culture and local traditions.

It would be the nation's ceremonial landmark conceived as a physical embodiment of unity, harmony and spirituality.

Dr. Mensa Otabil, the General Overseer of the International Central Gospel Church, led prayers to consecrate the drawings.

On completion, the Cathedral would become Ghana's Mother Church, where all faiths and denominations could gather and worship in spiritual accord.

It would be a place of inspiration, reflection and common devotion, a place to celebrate Ghanaian authentic culture and traditions.