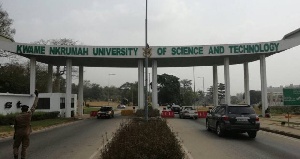 The Governing Council of the Kwame Nkrumah University of Science and Technology (KNUST) will be sworn into office today, Starrfmonline.com has gathered.
However, only about six new members joining the council will be sworn in today while the remaining nine members, including representatives from the unions will not be sworn in since they are already members of the council.

The swearing-in of the council paves the way for the reopening of the university which has been closed down for over three weeks now.

This means that the same representatives from the University Teachers Association of Ghana (UTAG), Prof E.K. Fokuo, the Tertiary Education Workers Union (TEWU), Mr Charles Arthur and the Students Representative Council (SRC), Kevin Sah will be on the governing council despite earlier resistance from the government.
The University Council is made of 15 members, four of which are government representatives. A representative from the government side chairs the council.

Meanwhile, following the early dissolution of the council, government decided to change its four representatives.

Representatives from the National Council for Tertiary Education (NCTE), Dr E. Baffoe Bonnie and the Conference of Heads of Assisted Senior High Schools (CHASS), Alhaji Y.A.B. Abbubakar have also been changed.