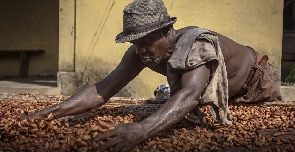 Wed, 20 Sep 2023 Source: GNA
The New Patriotic Party (NPP) says the historic increase in the producer price of cocoa ahead of the 2023/2024 cocoa season will offer farmers a stable and secure livelihood.
The Party said the 63.5 percent increment in farm-gate price "is the highest in 50 years among the West African sub-regional cocoa-producing countries" and encouraged farmers to disregard critics seeking to downplay the significance of the increment.

Addressing a press conference in Accra, Richard Ahiagbah, the Director of Communications, NPP, said the increment would motivate cocoa farmers to cultivate more and encourage others to enter the industry.

He said an increment in production would create job opportunities along the value chain and contribute to the sustainability of the cocoa sector.

"Cocoa farmers will receive a higher price for their cocoa beans, increasing their income. Farmers can use the extra income to improve their living standards, invest in their farms, and meet other financial needs.

"It reduces their vulnerability to economic shocks, leading to a more stable and secure livelihood," he said.
President Nana Addo Dankwa Akufo-Addo on Saturday, September 9, announced a new cocoa price at the opening of the 2023/2024 cocoa season at a forum in Tepa in the Ashanti Region.

The new price moved the commodity per tonne from GHC12,800.00 to GHC 20,943.00, representing a 63.5 per cent increment.

The new price is the highest in the sub-region in the past 15 years and is meant to improve the livelihoods of the farmers and for a fair price for their efforts.

Ahiagbah dismissed allegations by the National Democratic Congress (NDC) that the Government had "short-changed" farmers by offering them a "meagre fraction" of what it would earn on the international market.

He said the calculations of the new price were based on the achieved Free-On-Board (FoB) Price of $2,600 per tonne from the forward sales of cocoa, with an exchange rate of GH₵11.50 to a dollar.
He said the country engaged in forward sales of significant volumes of its cocoa to secure the syndicated loan to pay farmers, and thus, the determination of the Producer Price took into account the achieved FoB Price over several months of sales.

He said since prices in the forward sales market differed significantly from spot sale prices, the most recently achieved FoB of $2,600 per tonne formed the basis for calculating the new Producer Prices.

"It is, therefore, incorrect to compute what one thinks should have been the Producer Price, using the current spot price on the international market." Ahiagbah said.

"Under NDC, when the achieved FoB of cocoa was US$2950, they paid farmers US$1800 per tonne. However, under NPP, with the achieved FoB of cocoa at US$2600, farmers will be paid US$1821 per tonne," he added.
Source: GNA