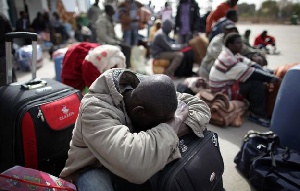 Some Ghanaian football supporters who went to Russia to watch the World Cup games but were abandoned by their agents have been rescued by the Nigerian government.
The football fans were airlifted together with hundreds of Nigerian citizens who were equally stranded after the World Cup games to Abuja.

Appearing before the Public Accounts Committee (PAC) of Parliament, Tuesday, August 14, 2018, to respond to some concerns raised in the 2016 Auditor-General's report, the Minister for Foreign Affairs, Hon. Shirley Ayorkor Botchway said when the country was confronted with the issue, they had no money readily at hand and therefore had to rely on the benevolence of the Nigerian government to assist in airlifting the stranded Ghanaians.

"The Nigerian government was transporting their people who were also stranded in Moscow to Abuja so we got a ride for our 20 plus people. But we had to then pay for them to be airlifted to Accra", she explained.

She said the situation is quite prevalent nowadays where Ghanaian missions abroad in some cases had to give out money for the upkeep of the stranded citizens.

She told the PAC that the money given to the stranded Ghanaians unfortunately are not accountable but always get the beneficiaries to sign for what they take.
"In one or two cases this might not happen and this is probably one of such cases. But it is happening quite a lot now. We have several cases like that and we have to come to their rescue", she said.

Her intriguing response caught the attention of the Chairman of the PAC, Hon. James Klutse Avedzi who asked the Minister whether her outfit has been misapplying other funds to take care of emergency situations.

Hon. Ayorkor Botchway in her response said "Consular services can sometimes demand that you find the money and indeed, Hon. Chairman, sometimes the officers even contribute their own resources to look after such persons. But it can happen otherwise our nationals will shout every rooftop again".

Her answer therefore touched the heart of Hon. Avedzi who promised to make a case in his recommendation to the plenary for the Ministry of Foreign Affairs and Regional Integration to have an expenditure line created to address such cases.

"We have to make an argument for an expenditure line to be created for this purpose so that you budget for it. If you budget for it and you don't utilize it, it still remains with us. Because when it comes to a point that staff are asked to contribute they will do it on humanitarian grounds but they are being affected. So, I think that there is the need for us to create a budget line for the ministry to have that budget appropriated every year for you to undertake this activity", he stressed.