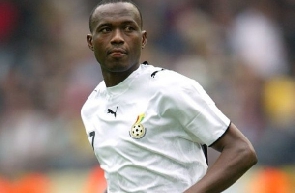 Former Ghana defender Shilla Alhassan Illiasu says he never believed he would get the opportunity to play a major role at the 2006 FIFA World Cup held in Germany.
The former Asante Kotoko defender was among the local-based players who were named in the Black Stars squad for the tournament.

According to him, he was expecting to be on the sidelines as he was competing with Bayern star Sammy Kufuor and Issah Ahmed at his position.

Iliasu got his breakthrough after he replaced Bayern star Sammy Kufuor in the second group game against the Czech Republic.

Kufuor had committed an error in Ghana's opening game against Italy which saw the Black Stars lose their opening game by 2-0.

Ghana coach Ratomir Dujkovi? called upon the Asante Kotoko defender to replace Sammy Kufuor in defence which according to Derrick Boateng a member of the squad, was shocking as the star player was dropped.
"I never believed I would get the opportunity to play at the World Cup. At my position, there was Sammy Kufuor who was the first choice followed by Issah Ahmed. Maybe the coach knew something I didn't. Maybe at training, he saw some qualities, Shilla Iliasu told Ohene-Bampoe Brenya on Happy Sports on Happy 98.9FM.

"I played in the pre-tournament game against Korea which I excelled at so I had that confidence that I could play so I grabbed that opportunity to prove myself when I had the chance".

Iliasu said he was praised by his teammates after making his debut against the Czech Republic.

"After the game, Sammy Kufuor and some players also commended me for my performance. It was a special feeling to hear the players motivate me".