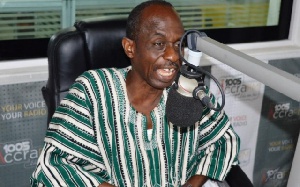 Chief Scribe of the opposition National Democratic Congress (NDC) Mr. Johnson Asiedu Nketia has attributed Mr. Freddie Blay's bus buying as an act of corruption saying local banks do not have the capacity to offer him such an amount as a loan.
On Kumasi-based Angel Fm monitored by MyNewsgh.com, he wondered how a local bank could dole out such an amount to an individual as a loan in the name of procuring buses insisting that there are more questions to be answered in the whole matter.

"Just ask the banks whether they have the capacity to offer such an amount as a loan to just an individual or institution. If not, then how come NPP alone can get 11 million dollars" He quizzed.

"How much does the bank has in total to offer such an amount in just a single transaction" He further demanded to know.

Mr. Asiadu Nketia also indicated that there is no credibility in the statements from both the party and Mr. Blay concerning the purchase of the buses because none has been able to establish clearly how the whole process was done.

"There is no credibility in that testimony", he said, adding that the whole transactions should be investigated.
Mr. Blay in concert with others was reported to have facilitated the purchase of 275 buses for all NPP constituency officers across the country ahead of the National Delegate Congress of his party.

The NDC and some civil societies have described Mr. Blay's action as vote buying and called for an investigation into the matter.

However, Mr. Blay has come out to clarify the issue saying the arrival of the buses and the congress date of his party was a mere coincidence and has nothing to do with vote buying as most people have expressed.

According to reports, Mr. Blay as a guarantor personally paid $ 3million which constitutes 30% of the total cost of 11.4 million dollars and has taken delivery of the first 100 buses.