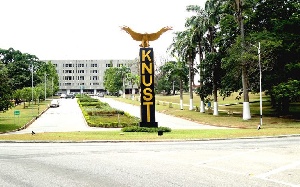 Management of the Kwame Nkrumah University of Science and Technology (KNUST) has refuted claims that lecturers carry weapons including guns for personnel protection on campus following the violent demonstration that hit the university a year ago.
"We wish to state without equivocation that the university's policies do not permit any staff (teaching or non-teaching), students and visitors to possess any weapons on the university campus," a disclaimer signed by the University Relations Officer (URO), Dr Daniel Norris Bekoe, said on Thursday, 31 October 2019.

It follows a publication by the Chronicle newspaper concerning alleged comments made by the President of the local chapter of the University Teachers Association of Ghana (UTAG), Prof Charles Marfo, to Kumasi-based Pure FM that members of UTAG have not recovered from the trauma of last year's protests which resulted in the vandalization of cars and other properties belonging to the university and some senior staff including lecturers.

The demonstrations were sparked by an alleged assault of students by the university's security personnel coupled with the agitation of the students against the conversion of their traditional single-sex halls of residence into mixed ones.
The newspaper said the lecturer explained that some of his colleagues now carry registered guns in their cars for personal protection.

However, the management of the university, in its statement, said: "it is on record that the radio station where the statement is alleged to have been made has issued a disclaimer stating the news was untrue".

The university said there are "adequate security measures in place to protect life and property of all members – students, lecturers, and administrative staff, including security support from the Regional Security Council (REGSEC)".