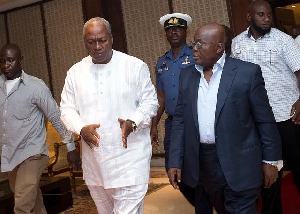 Former President John Mahama has said there is no need for Africans to celebrate the peaceful transfer of power from one administration to the other, because it must be the norm.
He said although the African continent may not have a perfect situation, there is evidence that democratic transitions are gaining roots on the continent.

"I find it surprising because I think it should be the norm. I don't think we should be celebrating each time a peaceful transition takes places. This is what is supposed to happen.

"And I think this is increasingly happening in Africa. It happened in Nigeria when President Jonathan stepped away and it happened here in Ghana," Mr. Mahama who lost elections last year told Aljazeera in an interview.
Mr. Mahama who is first Ghanaian president to be defeated in an election added that even though Ghana may not have reached its economic destination, he is confident that the oil producing West African country is on the path to achieving greatness.

"I believe that in 60 years one would expect us to have made more progress than we have. But considering the continent we come from, even maintaining Ghana as a united entity, not in conflict and posting positive development is an achievement.

"I think that today Ghana is positioning itself as one of the potential emerging countries on the continent".