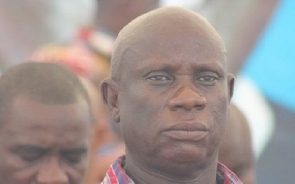 Deputy General Secretary of the New Patriotic Party (NPP), Nana Obiri Boahen, has lauded the apology rendered by two of the party's members who have been in a collision course in the last week.
The feud between the Gender and Social Protection Minister, Otiko Adisa Djaba and the Northern Regional Chairman of the party, Daniel Bugri Naabu started at the weekend when the latter allegedly disrupted a meeting being chaired by the former. Angered by the action, Ms Djaba accused Mr Naabu of taking bribe in the form of goats and cows to offer jobs.

There have since been back and forth accusation and counter-accusation by the two outspoken executive members of the party, something that has received condemnation by many Ghanaians including those within the party.

Ms Otiko Djaba on Tuesday apologised to the President and Ghanaians for her actions which she felt were unfortunate but her apology was not extended to Mr Bugri Naabu.

Bugri Naabu who in the course of his disagreement with the minister accused the Upper East Regional Minister of being complicit in the murder of Adams Mahama in 2015, was forced to apologise for that allegation which he said he had no fact whatsoever to substantiate.
But commenting on the matter, Mr Obiri Boahen said the apology by the two does not end the matter considering that their actions and inactions have affected the NPP and Ghanaians.

"The NPP constitution does not allow one person to take a decision on the matter.

The National Executive Committee (NEC) and the National Council of Elders (NCE) will meet to discuss the issue and take a decision" Mr Obiri Boahen said on Ghana Dadwene on Onua FM Wednesday.

"These bodies will take a firm decision on the issue. But it doesn't lie in the hands of one person to decide on the issue", explained, adding "whatever the two bodies will say binds everybody and it is good they have apologized"