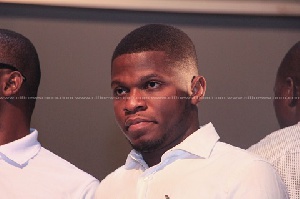 National Communication Officer of the main opposition National Democratic Congress (NDC), Sammy Gyamfi says the charges against Chairman Ofosu-Ampofo are simply borne out of sheer hatred and malice.
According to him, the NDC National Chairman did no wrong as what is happening is a clear politically motivated case which the government is hiding behind the police and pushing the security force to send Chairman Ofosu- Ampofo to court, simply because he is 'worrying the ruling NPP government'.

Speaking on Okay FM's 'Ade Akye Abia' Morning Show, Sammy Gyamfi insisted that the government wants the police to prosecute the NDC Chairman just to waste his time and also instil some form of fear in him as well as NDC members.

He maintained that President Akufo-Addo and his government want to use the law to intimidate and suppress the leaders and members of the main opposition National Democratic Congress (NDC).

"This is exactly what is happening in this case and if not then it is beyond comprehension that a certain government or the Police Service can use this case of a leaked doctored tape to proffer charges of conspiracy to assault a Public Officer, conspiracy to cause harm; these are the charges proffered against Chairman Ofosu Ampofo. These charges don't make sense; we cannot see the logic in the charges, because which Public Officer has the Chairman asked to be attacked or assaulted?"

Sammy Gyamfi claimed to be baffled by the prosecutory charges against Chairman Ofosu-Ampofo, who he claimed, has never been involved in any act of political violence in his over 30 years in politics.

"When you have a government lacking focus, a government which is not principled and a government which is not serious, this is what happens in the country. Now, this government believes leaked tapes can be used to prosecute someone; since when did CID start to charge people on leaked tapes? The CID boss, Madam Tiwaa Addo-Danquah's leaked tape, have we exhausted the case? Didn't she say it was a leaked tape? Has someone prosecuted her?"
"In law, we have Article 17 of the 1992 Constitution which says we are all equal before the law; COP Maame Yaa Tiwaa Addo-Danquah is not more Ghanaian or more human than Ofosu Ampofo . . . Lawyer Obiri Boahen is also not more Ghanaian and human than Ofosu Ampofo . . . " he said.

He reiterated that "this is a fabricated and malicious charge. I am not suggesting that it is true; it is not true but I am also examining the consistency of this government when it comes to the issue of leaked tapes and those who are involved have come out to say the leaked tapes are doctored. Consistency is key and one thing in the criminal law is the consistency of the law if we want to apply the law".

He therefore warned the Akufo-Addo government to desist from the "animal farm mentality" where the law is being used against others while others are being set free.

"This shows it is sheer hatred. We don't have any problem but sometimes in law we have something called malicious prosecution and that is being used to waste his time and resources," he added.