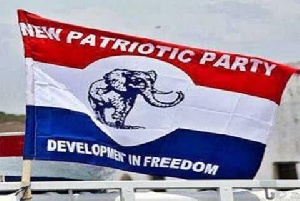 Mon, 20 May 2019 Source: Kwaku Anane
The Oti regional New Patriotic Party (NPP) on Saturday, 18th May, 2019 held their first delegate's conference at Dambai College of Education to elect executives to steer affairs of the party under the Theme "Empowering our grassroots for victory 2020".
Thirty one (31) candidates from all the eight (8) constituencies; Krachi East and West, Krachi Nchumurum, Nkwanta South and North, Kedjebi, Biakoye and Jasikan and also Santrokofi Akpafo Lolobi Likpe (SALL) for the various positions in the party.

The position contested for included the Regional chairman, Regional second vice chairman, Regional secretary, Assistance regional secretary, Regional Organizer and Regional women organizer.

According to the Electoral Commission, one hundred and fifty (150) delegates cast their votes.

The following persons are the newly elected as Oti regional Executives:

After the elections, Evans Y. Dapaah from Nkwanta North elected as the Regional chairman with 80 votes.
Stephen Kwaku Akumoah from Buem constituency pulled 64 votes and emerged the 2nd vice chairman.

Mr Joseph Denteh treasure, Nasara coordinator Nuunu Sarebutu and Mr Agyei 1st vice chairman went un-opposed.

Regional Secretary went to Joshua G. Makubu from Nkwanta South who obtained 98 votes.

The position of Regional Assistance Secretary went to Janet Emefa Obro - Adibo Goka from SALL constituency who obtained 67 votes.

Women organizer went to Olivia Yawa Aglago from Nkwanta South who secured 64 votes.
Abubakar Salifu from Krachi East won Regional Organizer position with 46 votes.

In a statement delivered by the honorable Member for Krachi East honourable Micheal Yaw Gyato, he advised the delegates to vote wisely because the leaders that they would select have a great responsibility to deliver.

He encouraged them to work towards winning more seats for the party come 2020 elections to help the NPP government create more jobs for the people of Ghana as he had already started. According to him, some members of the National Democratic Congress NDC can attest to the fact when it comes to job creation, New Patriotic Party is on top.

Mr. Dapaah Y. Evans who is now the newly elected chairman for Oti region, expressed his appreciation to all members of the party especially the delegates for their commitment, he therefore, assured the people that, they will work hard to support the party to win additional seat in parliament coming 2020 elections.
Source: Kwaku Anane