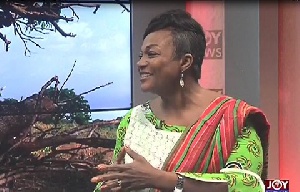 Wed, 10 May 2017 Source: Bright Dzakah
The Minister of Gender, Children and Social Protection Otiko Afisa Djaba has rendered an apology to President Akufo-Addo but the National Women Organizer for main opposition National Democratic Congress (NDC) Hajia Zenab Mahama said the Gender Minister's apology to the President is not enough.
According to her, the Minister should have also apologized to all women in the country since she heads a ministry that deals with women.

The Gender Minister on Tuesday was reported to have apologized to the President over some comments she made publicly about her party northern regional chairman Daniel Bugri Naabu, after she heeded calls from some party bigwigs.

This was after the NPP regional Chairman led some women to violently disrupt a meeting being held by Minister of Gender, Children and Social Protection, Otiko Afisa Djaba.

Mr Naabu stormed the meeting and scuttled it in protest to Ms Djaba's failure to have informed the regional executives of the party about the meeting, which resulted in the two leading figures exchanging unpleasant words.

However, the National Women Organizer of NDC said the apology by the Gender minister should have included all women as well. She noted that her counterpart should have exercised a little restraint and not go overboard to say the things she said.
"She is a mother to women now and not every provocation she should respond to, no matter what she should have remembered that she is representing all women in this country so I think she should also apologize to them".

Hajia Zenab Mahama also reminded the minister that not everything that people will say that she should react to, adding that in the face of provocation; she should control her temper.

Meanwhile, the NDC National Women Organizer disagreed with calls that the Gender minister be removed from post, saying she should rather be cautioned since this is her first time.

She also called on the clergy to bring the northern regional chairman of the ruling NPP to order.


Source: Bright Dzakah