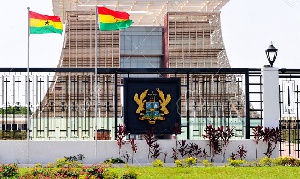 The Member of Parliament for Adaklu Constituency in the Volta Region, Kwame Govers Agbodza believes the allegations leveled against Northern Regional Chairman of the New Patriotic Party (NPP) Daniel Bugri Naabu by the Minister of Gender and Social Protection confirms claims there are corrupt practices ongoing at the presidency.
While stating that the allegations of bribery should not be taken lightly, he observed that this is not the first time he is hearing such a thing and therefore is least surprise that members of the current administration though tout themselves as anti-corruption campaigners are rather neck-deep in the practice.

"It is a disgrace, just four months in office and there is corruption everywhere. I honestly can't deny the fact that there is corruption in the new government. This is not the first time we are hearing people paying bribes before being given appointments but this is the first time a sitting minister is making such an allegation. No wonder assembly members are accepting bribes before making an endorsement of DCEs and MCEs", he observed.

He called on the office of the president to issue a statement reacting to the claims of bribery involving the NPP Chairman which is indirectly linked to the presidency.
According to him, the claim by the Madam Otiko Afisa Djaba that Daniel Bugri Naabu is taking coats and cows in return for positions further exposes the later as a big liar after claiming he rejected GH¢500,000 and cross country vehicle as bribe alleged to have been given to him by former President John Dramani Mahama and family

"I want the presidency to issue a statement to that effect immediately because it is a bad thing and it stinks. What the minister has said has also exposed bugri naabu that he is a big liar. This is the same man who claim he rejected a jeep and ¢500,000,000 old cedis bribe which was given to him by president Mahama. Now we are being told he accepts goats and chickens before giving an appointment. This is the man who accepts anything before making decisions. This is very shameful", he stated