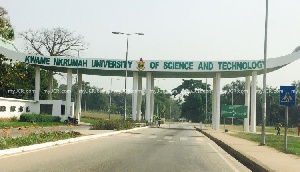 The Students' Representative Council (SRC) of the Kwame Nkrumah University of Science and Technology (KNUST) has expressed satisfaction over the ongoing reconciliation of students and the management of the university.
This follows Monday's demonstration by the students which turned violent, culminating into the shutting down of the university and creating an impasse between the students and the university authorities.

Government has since intervened through stakeholder engagements to find a lasting solution to the impasse.

But the SRC says it has made headway with the university management and is therefore calling for the university to be restored to normalcy.

"We hope that this new path of mutual respect we are charting sustains. We therefore call on Government and Regional Security Council to as soon as possible call off the 'close down' and let academic work resume", a statement from the SRC Thursday stated.

According to the SRC, it has reached an agreement with the management of the university to have their concerns addressed. The outcome of the engagement has been stated as follows:
Return to previous hall/college week celebration schedules. All hall celebrations will be celebrated separately.



Open engagement with students regularly (Have an open forum with students to get to know their concerns). Also students will be treated with respect and dignity – unnecessary harassment from any quarters in their residential life will be promptly attended to.

Reverse decision to consolidate/centralise all student association accounts.

Complete lift of ban on morale.
Accommodate UNITY and UNIVERSITY hall executives. They should be given the respect due them and also recognition to function as constitutionally elected executives.



University management to assure students the happenings of student brutality by security personnel will not happen again and ensure safety of students on campus.

Re-orientation of campus security personnel. Their limits should be well-defined.

University to provide medical care for affected brutalised students.
That in light of moving forward a reconciliation approach rather than punitive should be adopted. The end goal of the mediation program is to heal the divides involved.

Meanwhile, the SRC has reiterated that the cause of impasse is student brutality and not the conversion of all halls of residence to mixed halls.

It has also dismissed "it is not the official position of the SRC and students that the Vice – Chancellor be removed"



Dissolution of University Council
Meanwhile, Government has with immediate effect dissolved the Governing Council of the Kwame Nkrumah University of Science and Technology (KNUST).

Read:Gov't dissolves KNUST Council, directs school to reopen within 14 days

The dissolution of the Council was based on the recommendation of government's fact-finding delegation led by Education Minister Dr. Mathew Opoku Prempeh, which visited the school Tuesday to meet with the feuding parties in the crisis that led to the closure of the University on Monday.