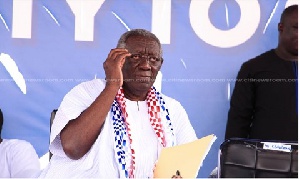 Former President John Agyekum Kufuor has reiterated his oft-held conviction that four years is not enough for a full term government under Ghana's current constitution.
This, he stresses, cannot afford a government in power the opportunity to do anything significant.

But, he points out, after just one-and-a-half years in office, the Nana Akufo-Addo-led government has performed creditably, making the country attractive not only to Ghanaians but foreigners.

He says that is the reason behind the many invitations President Nana Akufo-Addo is given by foreign leaders.

The former President made these observations on Saturday while addressing delegates at the 26th National Delegates' Conference of the New Patriotic Party (NPP). The Conference is being held at the Koforidua Technical University.

Former President Kufuor observed that Ghana has moved significantly forward anytime the NPP tradition is in power.
Nonetheless, power has slipped out of the hands of the tradition due to complacency and self-conceitedness, he further posited.

"Power can trick you," he stated. "If you are not careful you will become complacent."

He called for unity of purpose in the face of all the ambitions and dreams of the party.

As a current elder of the party, Mr Kufuor said party members should shun their individual egos and "vanities" in order to "hold together" to stay in power for long.

For him, if nothing is done to splinter the party, it can stay in power after 2020, 2024, 2028 and even forever.
He expressed happiness about the theme for the Conference: 'Building a Stronger Party, Delivering Prosperity to Ghanaians', tasking the government to make inclusiveness true not only for NPP members but Ghanaians as a whole.

He, however, maintained that a lot will be difficult to achieve in four years.

"Unfortunately our tenure is too short for us. [In] four years, you can't change the world."

Mr Kufuor's observation comes in the wake of many promises made by then candidate Nana Akufo-Addo in the run-up to the 2016 elections.

Some of the promises like 'One-District, One-Factory' and 'One-Village, One-Dam' are yet to see the light of day.