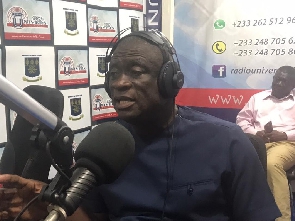 Kofi Ofori Bella, the Municipal Chief Executive for Ablekuma North in the Greater Accra region, has called on parents to actively participate in their children's education and welfare.
He holds that this is the best route to complement the government's efforts in implementing the Free Senior High School (SHS) policy.

Speaking in an interview on Radio Univers, he emphasized that while the government provides free education, parents must fulfill their responsibilities to ensure their children's well-being.

He stressed that the government cannot be solely responsible for providing everything for students, urging parents to play an active role in their children's upbringing and education.

He recounted an incident in one of the schools in his constituency, where a girl attended school without wearing underwear, highlighting the need for parents to ensure their children are adequately cared for.
"The free SHS is very good, it has come to help, I always say that if during my time I had a free SHS; I would have been a professor by now because years back, women used to sell their clothes to take care of their wards in school but today such business has collapsed.

"…but parents must remember that they have a responsibility to take proper care of their children. While the government pays for their school fees, parents should ensure their children are well-taken care of in other aspects of their lives.

He added: "I went for a PTA in one of my schools I won't mention the name for now, but a young girl who was there was not wearing pants, whenever she comes to school, she doesn't wear pants.

"So, are we supposed to buy her pants because of Free SHS? You who have given birth to your child and the person is going to school, she is not wearing pants. So, the parent should help for the Free SHS to work than to talk ill about it."
The Free SHS policy, a flagship educational program in Ghana, has been lauded for its efforts in increasing access to education and alleviating the financial burden on parents.

AM/SARA

Watch the latest episode of The Lowdown below:




You can also watch the first episode of Legal Agenda on GhanaWeb TV:




Share your news stories and ideas with GhanaWeb




To advertise with GhanaWeb