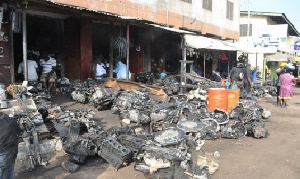 Parliament has passed the Customs Amendment Bill, despite stiff opposition from the Minority.
The new law will ensure the removal of import duty on spare parts.

Finance Minister Ken Ofori-Atta, while reading the Akufo-Addo-led government's maiden budget in parliament, announced the abolishment of some taxes including the tax on spare parts.

In addition to scrapping of tax on spare parts, parliament also approved the removal of some taxes.

They are:

– 1 percent Special Import Levy;
– 17.5 percent VAT/NHIL on financial services;

– 17.5 percent VAT/NHIL on selected imported medicines, that are not produced locally;

– Initiate steps to remove import duties on raw materials and machinery for production within the context of the ECOWAS Common External Tariff (CET) Protocol;

– 17.5 per cent VAT/NHIL on domestic airline tickets;

– 5 per cent VAT/NHIL on Real Estate sales;
– Excise duty on petroleum; – Special petroleum tax rate from 17.5 per cent to 15 per cent;

– Levies imposed on kayayei by local authorities;

– Taxation, the gains from realisation of securities listed on the Ghana Stock Exchange or publicly held securities approved by the Securities and Exchange Commission (SEC).