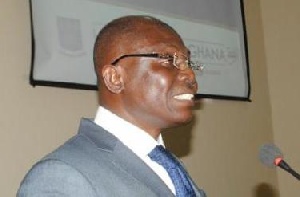 The Institute of Statistical, Social and Economic Research, ISSER has explained that the 2017 budget was prepared to provide for internal and external security, encourage growth and redistribute income as well as help manage the economy in the short term.
At a post budget analysis organized at Alisa Hotel in Accra, ISSER notedthat the Expansionary fiscal policy by government is geared towards increasing aggregate demand through either increase in government spending or reduction in taxes which leads to higher economic growth.

'The Expansionary policy will increase by rising disposal income through tax cuts on personal income taxes, and increasing investment by raising after-tax profits through cuts in business taxes and also increasing government purchases through increased spending on final goods and services ' Dr. Charles Ackah averred.

ISSER also noted that economic growth has slowed down in recent times, with 2016 growth estimated at 3.6 percent, the lowest in over two decades but the plank of the of the 2017 Budget is to increase growth in the economy resulting essentially from the revival of the oil and gas industry.
'The industry which suffered a negative 11.2% growth rate in 2016 is expected to drive growth based on an expected whopping 30.2% growth rate. This very high growth rate is due to the expected coming on stream of the production of the new oil fields and increased production of gas from the Atuabo gas plant'

Meanwhile ISSER questions if the underlying assumption about the turnaround of the oil and gas sector is realistic and what the downside risks are.