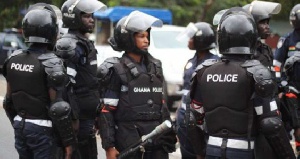 Police has beefed up security in the Bimbilla township and the surrounding areas following the firing of gunshots last night by unknown persons.
Reports say there was no casualties, but residents are terrified in the wake of the gunshots which happened around 8:00 pm.

It is unclear whether the firing was done by a civilian, however there was drumming and singing of dirge at the Naa Salifu palace before the gunshots, reports said.
Following Nakpaa Naa's burial days ago, security has been beefed up in the area and REGSEC in a statement signed by the Northern Regional Minister, Salifu Saeed directed that all processes leading to the installation of a new regent be halted in view of the tension.

The chief died in 2014 but threats of chieftaincy clashes between the two factions stalled the burial.