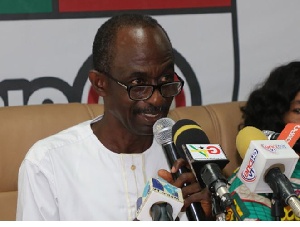 The General Secretary of the opposition National Democratic Congress(NDC) Johnson Asiedu Nketia has revealed that the Criminal Investigations Department (CID) of Ghana Police Service invitation to the party's National Chairman, Samuel Ofosu Ampofo was first done through a whatsapp message.
According to him, he was shocked that the Police Service showed a lack of respect for the Chairman of the largest opposition party and wondered why they conducted their work in such an unprofessional manner.

"The Police said they had served him the invitation through social media, they claim they extended the invitation to him through a message on whatsapp. For me, I'm on more than 600 whatsapp groups and so if I say I'll read message on all the groups in a day, then I'll have no time to do my official work and other stuffs. So why is it that the Ghana Police if they want to invite someone like Ofosu Ampofo, they do so through whatsapp message. The Police should know that if they don't have a regular conversation with Ofosu Ampofo on whatsapp and they send a message to him with a new number that is unknown to him the likelihood that he'll scan through all his messages is almost zero. I'm surprised that the Police is going about their duties this, I don't know what is happening to the Police. The Ghana Police Service that I know doesn't do their work this way." He told host Kwaku Owusu Adjei on Anopa Kasapa on Kasapa FM Friday.

Mr Samuel Ofosu Ampofo is expected to honour an invitation to the CID Headquarters today Friday, 1st March to assist in investigations into leaked audio he's linked to.

Lawyers for Mr Ampofo cited late notice as the reason for their client's inability to honour the invitation on Thursday.

Mr Ofosu-Ampofo on the said tape is allegedly heard telling party communicators that the NDC ahead of the 2020 elections is strategizing to launch attacks on some prominent personalities in the society including the National Peace Council Chair, Reverend Emmanuel Asante, the EC Chairperson Mrs Jean Mensah.
"For the first time, I will endorse insulting the National Peace Council Chair," to cheers from the NDC Communicators, whilst he said the "The party will come out with a number of policy initiatives. Security and Intelligence Unit in the party will be formed and we will appoint National Coordinator, Regional, District and Constituency officers to lead these Unites as we zoom along into 2020."

Samuel Ofosu Ampofo further stated that the Electoral Commissioner, Jean Mensah's comments over the Ayawaso incident was unpalatable to them, and hence they will "take her to the cleaners."

He also told his people to launch similar attacks on President Akufo-Addo who is the Commander In Chief of the Armed Forces, urging them to do all in their power to paint him violent in the face of the international community, thereby discrediting his credibility.