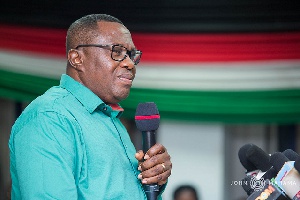 A member of the NDC's legal team Chris Ackumey says the police will be embarrassed if the case against the National Chairman of the opposition party Samuel Ofosu Ampofo goes to court.
According to him, the case preferred against Mr. Ofosu Ampofo in the leaked tape saga will be difficult to substantiate.

Mr Ofosu Ampofo and two other executive members of the NDC — the National Communications Officer, Mr Sammy Gyamfi, and a Deputy.

Communications Officer, Mr Kwaku Boahen — has been charged with conspiracy to commit crime, to wit, kidnapping, and conspiracy to commit crime, to wit, threat of harm.

According to the Public Relations Officer of the CID, Deputy Superintendent of Police (DSP) Juliana Obeng, following the charge, the police had asked the three NDC officials to cease reporting themselves to the CID Headquarters.
Speaking to Francis Abban on the Morning Starr Monday, Mr. Ackumey said he is hopeful the Attorney General will decide going to trial with the charges.

"The Ofosu Ampofo case has been taken to the Attorney Generals Department. I think we should see what comes out of it. If there exists a technology to determine whether or not the voice on the leaked tape is that of Ofosu Ampofo, then they should prove that.

"But if indeed there exists technology to authenticate a doctored tape, why wasn't it used in the case of the CID Boss? I told the Police when i went there that they are embarrassing themselves with this case and they took offense with it but let me say it here again, if this matter goes to court, the police will be embarrassed again. I hope the attorney general does not allow matter to go to trial".