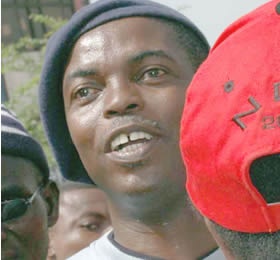 Tue, 11 Dec 2007 Source: GNA
Accra, Dec. 11, GNA - Mr. Kwesi Pratt Jnr, a leading member of the Committee for Joint Action (CJA), has slammed the government for being insensitive to the plight of Ghanaians with the continued increase in utility tariffs.

He said; the "Yewuo" demonstration should send a clear signal to the government and the New Patriotic Party (NPP) that the people were prepared to demand for their rights.


Mr Pratt was addressing thousands of demonstrators who had converged at the Hearts of Oaks training grounds, near the Department of National Lotteries in Accra, after marching through some principal streets to protest against the harsh economic conditions in the country. He said the group would continue to organise demonstrations across the country until the government listened to the plight of the people. "If they don't listen now, they would soon be consumed by the anger of the people of the country," he said.


He questioned how long the government would continue to increase utility tariffs when the mass of the people continued to wallow in abject poverty.


Mr Pratt assured the demonstrators that the CJA would not betray their trust and that the group would continue to fight for the cause of the underprivileged in society.


Mr Johnson Asiedu Nketia, General Secretary of the National Democratic Congress (NDC) commended the protesters for their resilience and steadfastness in the face of economic hardships. "You have shown by your protest that you stand for democracy and free speech," he added.

He accused the 17 NPP presidential aspirants of splashing money around while majority of the people lived in poverty. He denied that the CJA was a wing of the NDC and was aimed at pursuing the party's agenda.


Mr. Nketia said some members of the security agencies were facing economic hardships but were afraid to fight for their rights, adding, "a lot of NPP sympathisers are even disappointed". He said the high number of aspirants in the NPP presidential race was enough proof that the party was pursuing individual interests and not the welfare of the people.


Mr. Asiedu Nketia said the corrupt practices in the NPP government would be exposed after the party was voted out of office. Alhaji Mohammed Mumuni, former Member of Parliament for Kumbungu stated that the NPP had no vision to save the majority of Ghanaians from the hardships.


He said the NPP only had a passion for leadership but no passion for service.


Mr. Bernard Mornah, General Secretary of the Peoples National Convention (PNC) said prices of basic food items had increased tremendously since 2001 and majority of Ghanaians cannot afford three square meals a day due to the incompetence of the NPP government. Mrs. Ama Benyiwa Doe, National Women's Organiser of the NDC said the NPP government should not be given another chance to rule the country since it had deceived Ghanaians.

Source: GNA