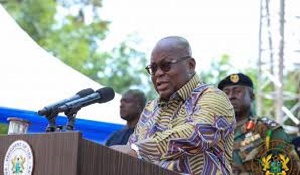 President Nana Addo Dankwa Akufo-Addo has urged Ghanaians to preserve the culture of religious tolerance currently prevailing in the country.
In April this year, the National Chief Imam, Dr Sheikh Osman Nuhu Sharubutu, joined the Christ the King Parish in Accra for the Easter Sunday service.

Also, last month, some pastors in the Ahafo Region, led by the Chairman of Association of Churches and Resident Pastor of the Kukuom Methodist Church, Very Rev. John Peprah, joined Ghana's Vice-President, Dr Mahamudu Bawumia, at the central mosque for prayers.

Last Saturday, the Darkuman branch of the Seventh Day Adventist Church dedicated that day to Muslims as Muslim Relations Day.

All the congregants dressed as Muslims and served fruits later in the day to the mosque closest to their church.
Nana Akufo-Addo, in his speech at this year's national Eid al-Fitr celebration at the Black Star Square in Accra, said: "These and many more beautiful spectacles that are unfolding in our country should not be taken for granted."

"We must continue to work to preserve our culture of religious tolerance. We cannot surrender this beautiful way of life for anything and certainly not to people who seek to pervert religious beliefs. Don't let [enemies of the state] destroy our unique way of life," he added.

Nana Akufo-Addo further urged the youth to celebrate the day with caution because "the nation needs you alive."