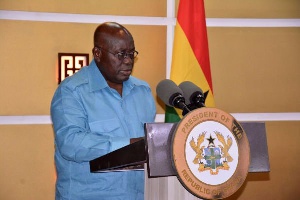 President Nana Addo Dankwa Akufo-Addo on Wednesday restated his vowed commitment to fulfil the pledges he made to Ghanaians before assuming the reins of the country.
He says he want Ghanaians to look upon him as a man of his word, and as someone who tells the truth and delivers on his promises, and as such he would keep to his promises during his tenure of office.

Speaking to health workers at the Effia Nkwanta Hospital, on the last day of his three-day working visit to the Western Region, President Akufo-Addo indicated that two important campaign promises he made in the run-up to the December 2016 elections were going to be met.

"Because of the importance of education, the first pledge to be met will be the Free High School policy. You know how much I have been abused and traduced.

"I have been vilified, with people saying that I am doing it for politics, I am trying to buy votes, I can't do it, and I am lying to the people of Ghana.

"But by the grace of God and with the energy of the Minister of Education, Matthew Opoku Prempeh, in September, the Free SHS policy is coming," the President said.

He said his administration committed itself to restoring the nurses and teacher training allowances.
"I am happy to inform you that the Asempa Budget that Ken Ofori-Atta read in March has made provision that at the beginning of this academic year, in September, the nurses and teacher training allowances are going to be restored in full."

President Akufo-Addo revealed that government had secured funding to commence the construction of a regional hospital in the Eastern Region, and was currently examining four different proposals for the building of a hospital for the Western Region.

"I do not think it would be right that because we want to build a new regional hospital, we abandon this old, famous hospital. I don't think it would be right, and I am going to do all that I can to do all that I can, with the support of the Ministry, to make sure that that doesn't happen. Effia Nkwanta already has important teaching and important facilities here, and it will be rehabilitated," he said.

Bemoaning the poor state of the country's health infrastructure, President Akufo-Addo expressed the importance of rebuilding the country's health infrastructure.

"We begin not just with the physical rehabilitation, but with the preparation of the human material in our healthcare delivery system, and the rehabilitation and revival of the National Health Insurance Scheme. The NHIS was Kufuor's great legacy to our nation.

"We (the NPP) are back in office, and it is our duty to restore the NHIS back to full health and vitality and that is what we are going to do."
Government has already paid GH¢ 500 million out of the GH¢ 1.2 billion NHIS debt inherited from the previous government. Payments to NHIS service providers for 2017 are up-to-date.

President Akufo-Addo appealed for the unalloyed understanding and support of Ghanaians, especially of the health professionals, as government undertook reforms to return the country's economy to full health.

"It is not going to be easy because our public finances were in a poor state. Unfortunately, I did not inherit a treasury filled with a lot of money. I inherited a bankrupt economy filled with debt. I am, nonetheless, not intimidated by the debt. Anybody with a good heart and good head and with determination can turn debt into money, and that is what I intend to do.

"I need your support and understanding to give this nation a first class health delivery system that the people of Ghana deserve, and we are going to do so with your active support and participation," he said.

"You are some of the most important people in any society certainly here in Ghana – health workers, doctors, nurses and paramedicals. All of you, together, represent a huge and important human capital for the development of our country. I want you to know that you have a government in place that is going to give you the maximum support so that you can do your work well for the benefit of our people and the health of our nation," he added