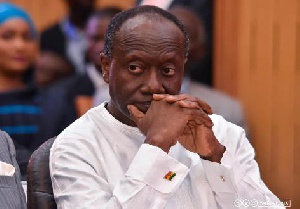 Government within three months after it was sworn into office has borrowed a little over three billion dollars from the international community without the knowledge of Ghanaians.
"The substantial export commodity in Ghana today is dollar loans from friends and paddies abroad" Board Chairman Political and Economic Research Institute Ghana (PERI-Ghana), Mr. William Awuku Ahiadome revealed on Ultimate Fm.

He took a swipe at journalists for keeping such vital information from Ghanaians who are supposed to know every local and international transaction of the government of the day.

"Ghanaians even do not know these exponential commodities are loans. The media are not talking about it today because they are in bed with government "he alleged on the show.

Reviewing the President Akufo-Addo's hundred days in office in a panel discussion, the Policy Analyst mocked government in the area of job creation.
"Every ministry has been expanded to create jobs for one hundred and ten ministers and other appointees. Hundred days everybody is at post. That is beautiful because they need work to do".

Mr. Awuku Ahiadome however commended the government for the steps taken to bring prime rate in the country down.

"The only plus I have seen so far is that effort of moving the prime rate to 2% below to what we used to have and that is a step in a right direction" the Policy Analyst pointed out.