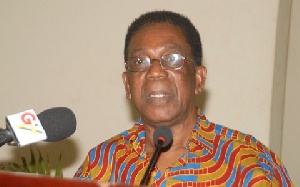 Senior lecturer at the University of Education, Winneba (UEW), Dr. Ahmed Jinapor, has described as worrying, the silence of Prof. Kwesi Yankah on the crisis at KNUST that has led to the closure of the university.
He argued Prof. Yankah who is the Minister in charge of Tertiary Education, ought to be at the center of all discussions and plans to put to rest happenings at the KNUST.

On Monday October 22, 2018 students of the Kwame Nkrumah University of Science and Technology embarked on a demonstration to express their displeasure over brutalities meted out to them by campus security.

The protest turned violent and led to the destruction of school property by the students, compelling the Ashanti Regional Security Council to closed down the school after consultations.

Demonstrating students torch property at KNUST security post

Minister of Education, Matthew Opoku Prempeh later led a government delegation to university to hold discussions with student leadership and management of the school.
A 7-member interim governing council was subsequently constituted to investigate issues and see to the total resolution of issues as well as ensure the reopening of the school within 14 days.

Gov't dissolves KNUST Council, directs school to reopen within 14 days

Lecturers and some persons have disagreed with the constitution of the new Council, triggering a strike by the KNUST branch of the University Teachers Association of Ghana (UTAG). The KNUST administrators also declared strike.

Prof. Yankah who is directly in charge of tertiary education has over the period not been heard acting or commenting on the matter, something Dr. Jinapor said is disturbing

"I think the President of this Republic knows that University education in this country has become complicated and complex that is why he appointed a Minister of State, Professor Yankah with all the knowledge and background to supervise and oversee the Tertiary sector.
"I find it quiet mind boggling that in this entire impasse, I have not heard of him, it is interesting, I have not heard of him," Dr. Jinapor said on TV3 New Day on Saturday.

He said the Prof. Yankah who is well vexed in issues at the tertiary level should have been the one leading discussions to ensure that the issue at the KNUST is resolved and students return to school.