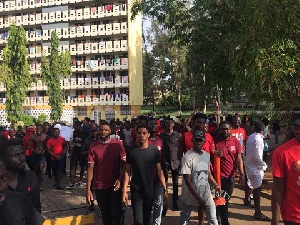 The Office of National Chief Imam has called for the arrest and prosecution of the students who embarked on the violent demonstration at the Kwame Nkrumah University of Science and Technology (KNUST) on Monday.
Sheikh Aremeyaw Shaibu, who is the Public Relations Officer for the Chief Imam, believes this will serve as deterrent to other students to use legal means instead of violence to resolve issues.

A high-powered government delegation on Tuesday failed to reach a definite consensus with the management and students of KNUST, where a peaceful protest on Monday turned violent.

The delegation, led by Minister of Education Dr Mathew Opoku Prempeh, held two separate meetings with the parties in the impasse – the students represented by the Student Representative Council and the University Management led by the Vice Chancellor Prof. Obiri Danso.

Also in both meetings, which lasted close to six hours, were members of the Regional Security Council (REGSEC) and National Security Minister Kan Dapaah. Speaking in an interview with Onua FM's Yen Sempa hosted by Bright Kwasi Asempa on Wednesday, the PRO of the Chief Imam said the closure will be a worry for the students, the school authorities and parents.

"We should have all come together and prevent it and we must not bring in the blame game."

Sheikh Shaibu said if the laws say the students should pay for the destruction, "they should pay because they are the same people who are coming out to be MPs, Minister, leaders, imams, pastors, so we need to sanctions them to be an example for others".
"We need to get away from violence because already, Ghana is walloping in poverty."

He added: "We can identify them and the let the laws work so that we can prevent such occurrences".

The PRO added that Ghana should find a way of ensuring that students will not indulge in such acts again.

No delay!

On the reopening of the University, Sheikh Shaibu said the closure should not take much time "because it will be a worry and it may destroy their future".

"I wish they can return to school even today. We should not delay in the reopening of the school," he prayed.