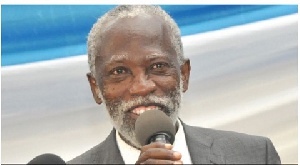 Public Service Management expert and former head of GIMPA Professor Stephen Adei has called on government to hold the head of passports responsible over undue delays in the acquisition of passports in the country.
The comment comes on the back of hints by government to issue out passports to Ghanaians at birth.

According to the chief Executive officer of Public Sector reform at the Presidency, Professor Kusi Boafo, giving Ghanaians passports at birth will be a major way to avoid the frustrations associated with passport renewals or acquisition in the country.

"We are bringing in a new public sector reform policy. There is no single public institution in Ghana that can deliver proper public good. Go and see DVLA, the passport office, Ports & Harbors…etc. If passports are very necessary, then passports are supposed to be made on the day of birth, and that is what we are trying to work on," he told Francis Abban on the Morning Starr Wednesday.

Commenting on the initiative, the outspoken academic told Starr Today that the country can only embark on such actions if officials are held directly responsible for lapses in their outfits.
"We have to use a systemic procedure to handle this issue and those who don't comply be disciplined. You cannot use a land bank as a solution to the whole National Land Administration. If someone applies for a passport and goes through all required process, the person should receive the passport in maximum 2 weeks. If someone's passport is not ready in 2 weeks, the head of the passport office must be held responsible," he said.

Ghanaians have over the years bemoaned the difficulties in renewing or procuring a new passport as many are on daily basis subjected to long delays in queues at passport offices in Accra.

Several measures by government including plans to decentralize the passport office have not been able to resolve the bottlenecks in acquiring a passport.