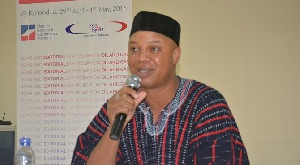 Minority Member of Parliament for Damango constituency, Adam Mutawakilu has argued that the reduction in public lighting levy and others announced by the Finance Minister is woefully inadequate.
He was contributing to the debate in Parliament over the 2017 budget statement. The legislator said: "…the Minister of Energy when he was being vetted…stated that his special focus was on lifeline consumers. When you take the lifeline consumers, they are consumers who consume between zero and 50 units in kilowatt hours.

The highest any lifeline consumer will consume would GHc17.77. The contribution of public lighting levy and national electrification levy is GHc1.64. When you reduce it by 2 percent and 3 percent respectively; you are only giving the highest unit consumed by lifeline consumer only 84 pesewas.
So that means that the worst tariff for lifeline consumer is 84 pesewas and you [Energy Minister] initially said this tariff was suffocating.''