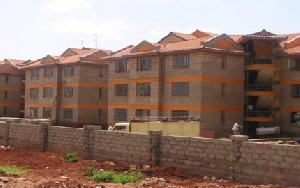 The hassle of raising huge sums of money in order to pay for a two or three years rent advance is set to be over when the Convention People's Party is voted into power in the December elections, its presidential candidate has promised.
Ivor Kobina Greenstreet was cocksure that his government would strictly ensure that no landlord takes more than three months' rent advance.

The Rent Control Act 1963, Act 220 under Section 255 states that no landlord has the right to take rent advance for more than three months and six months for residential and commercial areas. However, subsequent governments have woefully failed to implement the provision.

But in a televised manifesto launch of the CPP, oldest political party contesting the 2016 general elections, Ivor Greenstreet promised Ghanaians on Saturday that the provision would be implemented to the letter under his leadership.
This, according to him, would bring economic independence and provide the needed social justice to make "lives of ordinary citizens easier". He condemned the status quo where people are forced to pay two or three years rent advance, and wondered "how many young people can afford "to rent accommodation.

"The law is there but they don't want to apply it, we shall apply it," he emphasised. The CPP presidential candidate also promised free postgraduate education for medical students as he condemned the National Democratic Congress and the New Patriotic Party for deceiving electorate over the years with fake promises.

He called the two parties "liars", "mendacious" and "pirates" The launch of the party's manifesto took place at the Ghana Academy of Arts and Sciences and was attended by leading members of the party founded by Ghana's first President, Dr. Kwame Nkrumah. The party also launched both the braille and sign language versions of the manifesto.