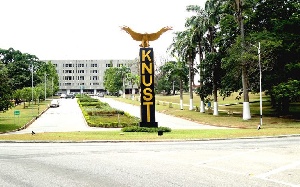 Former Council member of Katanga Hall, Mr Abuga Pele, has called on government to revert the conversion of the hall to its original state.
According to him, although majority of students at the Kwame Nkrumah University (KNUST), are happy the Vice Chancellor, Professor Obiri Danso, has been asked to step aside, the main reason the riot was recorded was the conversion of traditional halls to a mix one.

He is of the view that, the interim council may not be able to work effectively if the issue that led to the removal of the Vice Chancellor, is not resolved.

The National Council for Tertiary Education (NCTE) has informed the Vice-Chancellor to make way for the interim governing council to take over the administration of the university.

The NCTE letter dated October 25, 2018, directed Prof. Obiri Danso "...to temporarily hand over the day-to-day administration of the University to the Pro-Vice-Chancellor, who shall act until otherwise advised."

Pro-Vice Chancellor, Prof. Mrs. Rita Akosua Dickson, has been made ag. Vice-Chancellor.
Meanwhile, the KNUST branch of the Teachers and Education Workers Union (TEWU) staged a demonstration today [Monday].

They have expressed disgust at the decision by government to direct the Vice Chancellor to step aside.

TEWU and the lecturers are irked by the government's decision and want them to reverse same. The lecturers have already have already withdrawn their services.

The demonstrators hoisted placards that read, "Stop these political tricks," "No IMC in KNUST," and "No government Interference," among others. But Abuga Pele says the call is unnecessary and a useless one.