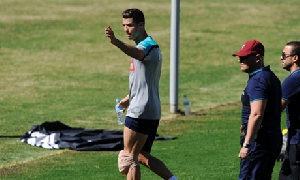 Ghanaian witchdoctor Nana Kwaku Bonsam came clear on Cristiano Ronaldo's situation on Wednesday night insisting the winger would not face Ghana and 24 hours later, the player walks off during training with a knee problem.
Cristiano Ronaldo cut short a training session with Portugal on Thursday, and was forced to leave the field with an ice pack over his left knee indicating that his tendinitis may still be bothering the Real Madrid forward.

Ronaldo trained with the rest of the team for about 15 to 20 minutes, doing physical exercises, but then did not take part in the rest of the session with full ball drills.

Instead, the 29-year-old stretched on his own and signed replica shirts for fans before going to sit on the bench.

The former Manchester United talisman has been bothered by injuries to his left leg in the lead-up to the World Cup, and was on the sidelines for two weeks with tendinitis in the knee and a thigh problem.
The Portugual midfielder João Moutinho said there was nothing to worry about concerning Ronaldo's health.

"Ever since he started to train with us he has been 100% like the rest of us," Moutinho said. "Everything is fine with him but there is some caution, not only with him. Today many other players were using ice as well. There is nothing to worry about. The ice is normal after training."

Portugal kick off their Group G campaign on Monday teatime when they take on Germany in Salvador.