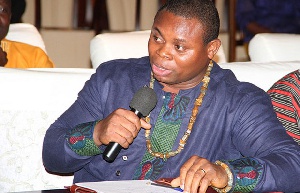 The chairperson of the Electoral Commission (EC) should resign or be fired over comments she made to the effect that the presidential aspirant of the All People's Congress (APC), Hassan Ayariga, would lose the December 7 polls, IMANI Ghana founder Franklin Cudjoe has suggested.
The chairperson of the EC, Charlotte Osei, in a recent speech at Chatham House in the UK, stated that "there is going to be one winner and many losers including Hassan Ayariga, I'm sure", in this year's elections.

But the comments of the EC boss have raised questions regarding her neutrality, with Mr Ayariga accusing her of disqualifying him based on personal grounds.

The latest person to raise issues with the conduct of the EC chair is the IMANI boss who felt the comments warrant the dismissal of the EC boss.

"In any serious jurisdiction, immediately, she should be resigning. These are serious matters. Even though she tried to laugh over it when she came to Ghana and was talking over it, in some respect she should have been probably sacked," he told Umaru Sandah on Citi FM's The Big Issue on Saturday, November 12.
He explained that the political climate of the country was tense and such comments did not have to emanate from Mrs Osei, who will be presiding over the December 7 elections.

For him, "somebody has been bruised badly by your own incompetent conduct" and going ahead to make such pronouncements leaves a lot to be desired.

He stated that the fact that the EC found more errors after the Supreme Court ordered a fair hearing for disqualified presidential aspirants was a "pointer to the incompetence of the entire process because if you had realised all these errors, then it means that you could have actually seen all these errors from day one",

Mr Cudjoe said Mrs Osei had "typical of African behaviour" rather adopted a posture of 'I will show them, they said they will take me to court so let's find more errors and pile them up' to settle personal scores with such aspirants. "That is completely disrespectful of the Supreme Court," he noted.