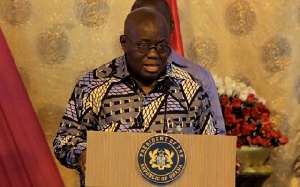 District Education Director for the Assin South in the Central Region, Mrs Selly Nelly Coleman has urged government to take a second look at taxes on imported on educational materials.
The taxes, she explains ought to be repealed or at least reduced so as to boost activities especially donations to the educational sector.

The educational sector according to her, will be the biggest beneficiary if the taxes charged are reviewed as a lot of people will be encouraged to donate more to the sector to enhance teaching and learning especially in the deprived rural areas.

Speaking in an interview with Ultimate News' Central regional correspondent Kwaku Baah-Acheamfour following a donation of sets of computers to the Assin Nkwanta Methodist Primary School by a USA based Ghanaian Professor and Philanthropist Professor Martha Sedega, Mrs. Coleman expressed her disappointment with regards to the taxes that were charged by tax authorities on the products.

She explained that the philanthropist complained about her ordeal in the hands of tax authorities as she was charged $700 for the computers that cost her $400.
Mrs. Coleman explained that such policies will adversely affect educational delivery in the country especially at the deprived rural settings which also depends on such donations in addition to government contribution to run effectively.

She added that philanthropists and other well-meaning donors outside the country will find it unattractive to donate if the taxes are not made favourable to them.

He however urged government to be circumspect with the review so that people don't abuse such intended privileges.