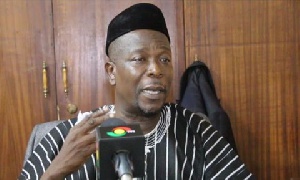 The Electoral Commission (EC) has advised political parties aggrieved by the hike in the 2016 filing fees to try hard to secure 25 and 12 per cents of the total vote cast respectively in the presidential and parliamentary elections for a refund of their monies.
According to the electoral body, the regulation guiding the EC's directive to raise the filing fees is unambiguous, and therefore, should not be a reason to rise dust.

Four political parties, the People's National Convention (PNC), the Convention People's Party (CPP), the National Democratic Party (NDP) and the Progressive Peoples Party (PPP), vehemently criticized the increment.

PPP yesterday filed an interlocutory injunction at the High Court seeking to prevent the EC from collecting filing fees from presidential and parliamentary aspirants in this year's general election.

The PPP wants the court to stop the EC from collecting the fees until the determination of a suit it has filed challenging the legality of the electoral body collecting GH¢50,000 and GH¢10,000 from presidential and parliamentary aspirants, respectively.
In its motion for interlocutory injunction, the PPP is praying the court for an order to restrain the EC, "their respective agents, assigns, privies, servants or workmen from collecting or receiving the filing fees for the conduct of the 2016 elections, pending the final determination of the substantive matter".

But speaking on Peace FM's Kokrooko morning show yesterday, September 29, 2016, Eric Dzakpasu, spokesperson for the EC stated that they have a team of lawyers that scrutinize the laws before they act, hence they are sure they did not breached any law.

However, he stated that the monies of those unable to reach the required percentage would be paid into the consolidated account, "it all goes back to government's chest and not to EC".

The EC on September 8, 2016, announced the increase in the filing fees for presidential candidates from GH¢5,000 in 2012 to GH¢50,000 and that of parliamentary candidates from GH¢1,000 in 2012 to GH¢10,000 in this year's elections.