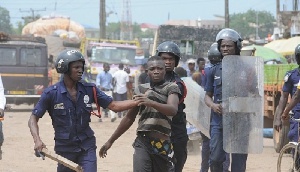 Seventeen persons have been arrested in Bimbila after a serious shooting incident which claimed the lives of two people on Thursday February 9 in the Nanumba district of the Northern region.
According to the Police, the suspects arrested will be processed for court to face prosecution.

Speaking on Abusua Nkomo hosted by Kwame Adinkrah, ASP Ebenezer Tetteh, Northern regional police Public Relations Officer indicated though there is a 4am-6am curfew in Bimbila, the police is doing their "utmost best to ensure peace is restored in the community."
He also added that there has been re-enforcement from both the military and the Police from Tamale to calm the state of insecurity in Bimbila.

He however urged people traveling to Bimbila to be extremely careful and also draw the police's attention should they find anyone with arms and ammunition traveling to the region to fuel the shooting incident.