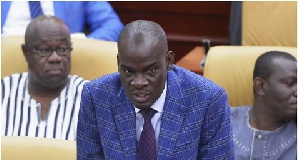 The Minority in Parliament has threatened to head to court over what it has described as unconstitutional, a decision by government to cut back on monies allocated to some statutory funds.
According to the parliamentarians from the opposition National Democratic Congress (NDC), the constitution clearly stipulates what funds need to be allocated to the District Assemblies' Common Fund, among others.

Government, however, is praying for a reduction in allocations to those funds in the budget, a development the Minority said breaches the fundamentals of the constitution.

Contributing to the debate on the estimates for the Local Government Ministry on the floor of parliament on Tuesday 21 March, Minority Leader Haruna Iddrisu said NDC MPs would be seeking an interpretation of the decision by the Nana Akufo-Addo government in court.
"Leave the money for the Ministry of Local Government and leave the money for the District Assemblies' Common Fund. You cannot be shaving your hair and say that you want to have hair on your head, it's not possible. Once you shave, it off it's off, it's 'sakora', so you are rendering the District Assemblies' Common Fund 'sakora', with some cash short. So, Minister, in order to avert a possible legal action, we are determined to pursue this matter and to seek an interpretation in the Supreme Court of what amounts to five per cent of total revenue in accordance to article 252 of the constitution and in accordance with section 126 of the Local Government Act 936 of 2016 in order to understand it," Mr Iddrisu said.

He advised the Minister of Local Government, saying: "So Minister, while we support and approve this, we will urge you to liaise with the Minister of Finance before appropriation, so that the Minister of Finance comes clear and we know that we exercise oversight over the fund."