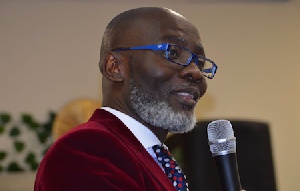 Political Risk Analyst, Gabby Asare Okyere-Darko, says he has every reason to believe that state institutions conspired to bloat the country's voters register to favour the ruling National Democratic Congress (NDC) prior to the 2012 general elections.
According to him, a thorough analysis of the voters register and how it was bloated shows that two state institutions clearly stand out in the scheme of things – the National Health Insurance Authority (NHIA) and the Electoral Commission- ICT Department.

The government, he said, masterminded the alleged act.

"What is clear to us is that in their strategy, there is a conspiracy involving institutions of the state; the National Health Insurance Authority was part of it. The government itself was part of it – because they went ahead to create districts so that they can force the EC's hands to also create 45 constituencies. If they had left the Electoral Commission to create it per the criteria the constitution says, they would have just focused on areas where there were more people," he noted in an interview with Fiifi Banson on Anopa Kasapa on Kasapa 102.3 FM on Monday.

He added, "In 2000, NPP won 100 of the seats and later on it went up to 102. When you look at the numbers, NPP got 3.1 million of the popular votes. That is about 49% of the popular votes to give you 50% of the seats. NDC got I believe 44% and got 89 seats.
When you get to 2012, NPP got almost 53% of the popular votes. NDC got less than 48% yet they got 148 seats compared to the number the NPP had. This is what we call gerrymandering."

Continuing, the former Executive Director of the Danquah Institute said the IT Department of the Electoral Commission also contributed immensely to the bloating of the voters register because they had a hand in the inconsistencies over the number of registered voters in the voters register.

"Do you remember that the EC couldn't explain how one million registered voters' names got missing in the voters register? They later came out to tell us oh, they've been able to locate some and a whole lot of things. I think the IT department of the EC is one of the most corrupt departments in the country," he argued.