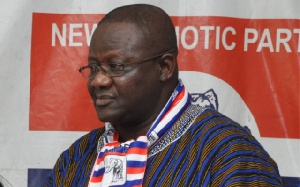 Former National Chairman of the New Patriotic Party (NPP), Paul Awentami Afoko has expressed his displeasure over reports of the peddling of his name in the ongoing National Delegates Conference of the ruling New Patriotic Party.
Mr Afoko is calling on persons using his name to peddle all manner of untruths to desist from such acts or incur his wrath.

There were reports that Mr Afoko was sponsoring some candidates in the ongoing National Delegates Conference at Koforidua in the Eastern Region, with alleged Afoko cheque pictures making round on social media among others.

Also, President Akufo-Addo had made reference to the post-Tamale episode in 2014.

"It is a huge challenge and we need the right people to meet it…We must make sure that the post-Tamale experience never recurs again. We must maintain and safeguard the gains of 2016 by electing the right persons," he told delegates gathered at the Koforidua Technical University

But Mr Afoko is asking NPP delegates and all well-meaning Ghanaians to "disregard any such malicious allegations and treat them with the greatest contempt".
Mr. Afoko called for all parties in the election "to conduct themselves in civility", praying that "the best candidates emerge victorious, let the NPP be the ultimate winner after the congress."

The following is the full statement from his office:

DISCLAIMER

Leading to our great party, the New Patriotic Party's National Congress slated for Saturday July 7, 2018, the attention of the Office of Mr Paul A. Afoko has been drawn to numerous propagandist materials and other forms of communication that seek to suggest Mr. Afoko's involvement in the New Patriotic Party's Congress to see specific candidates emerge victorious thus suggesting that he is either in support or openly funding specific candidates.

The office of Mr Afoko would like to state unequivocally that those are palpable falsehoods being peddled by persons who have developed defeatist attitude towards their own campaign and have no choice but considered his name as a lottery ticket to draw a wedge between him and others, and chance on that to cause disaffection thus emerging victorious. This attitude is alien to the ideals and principles of the great NPP, a party that was founded on the principles of truth, honesty and freedom in development.


The office would like to advise all to ignore any such attempts by opponents of various candidates to use the name of Paul Afoko to either cause disaffection of affection for their electoral campaign. As it stands, Mr. Paul A. Afoko is NOT in anyway supporting any candidate, he believes victory shall beckon the prepared and hardworking thus entreat all to campaign hard with a strong message that resonates with the delegates and desist from this alien approach of character assassination and gross disrespect for both party structures, institutions and elders.

May we seize this moment to address two major concerns;

1. A cheque of GH¢C750, 000. 00 purported to have been issued by Mr. Paul Afoko to one of the candidates is false. Mr. Paul A. Afoko does not have a bank account with Fidelity Bank Achimota Branch, and all who have sighted some public documents with Chairman Afoko's signature can confirm the signature on the said cheque is NOT his signature. We advise those behind this cheap campaign practice to desist from this cowardice and immediately believe in themselves, their abilities and put out a strong campaign message to secure victory. Delegates vote purely based on message and nothing else, he is a living testimony himself of his victory as Chairman of the party at that historic congress in Tamale.

2.The office would also like to seize this moment to require of one Mr. Siame Bright Kwame, a supposed Deputy Youth Organiser of Kponekatamanso to IMMEDIATELY produce all evidence available to him that Mr. Paul A. Afoko is behind the scene sponsoring candidates, etc, or be met with the full rigours of the law. The gross disrespect for authority and elders within the party cannot be entertained if young men and women, for that matter young leaders begin their political career on this tangent.


Amazing the gentleman in question wrote, and we quote, "This unfortunate happening is a dent on the ideals that the Party stand for. It is condemnation and only seek to fill the top hierarchy of Party with those who can pay best and not necessarily those who can best do the work." In spite of his bad diction, it is proper to ask if this is what the youth of our great party now stand for, LIES?

The appropriate action will be taken to remedy such ills, since the author felt bold enough, convinced enough and therefore provided his name, position and contact number.

We will advise the general public to disregard any such malicious allegations and treat them with the greatest contempt it will all deserve. Mr. Paul A. Afoko would also like to wish all to conduct themselves in civility, and may the best candidates emerge victorious, let the NPP be the ultimate winner after the congress.

Thank you.
Office of Mr. Paul A. Afoko