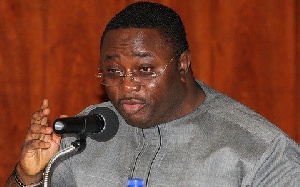 Former Minister of Youth and Sports, Elvis Afriyie Ankrah, has entreated the management of the Kwame Nkrumah University of Science and Technology (KNUST) to desist from treating students like children.
According to him, individuals enrolled for undergraduate and graduate programmes at the public universities are adults and, so, the school authorities must relate to them as such.

In his opinion, the managers of the university cannot be autocratic in their dealings with the students, suggesting that the best way to implement policies on campus, is to "dialogue" with, and "engage" the students.

"They should not be seen as children, they are adults in their own right and the university community is made up of the Junior Common Room (JCR), which is the students; and the Senior Common Room, which is made up of the lecturers and the workers, and they all have a stake in whatever happens in the university and they should all dialogue and find a way out of this mess, but not to be violent, that is totally unacceptable," he said on Class91.3FM's Total Recall on Wednesday, 24 October 2018.

Mr Afriyie Ankrah was reacting to the recent shutdown of KNUST after students rioted and vandalised cars and property in protest to certain policies and directives imposed on them by the school authorities.

The arrest and manhandling of some students sparked a demonstration on Monday, 22 October which degenerated into chaos.


The conversion of some single-sex halls into mixed ones has also been cited by some analysts as contributory factors to the riots.

Various individuals and groups including the alumni of Katanga Hall; and the Campus Forum for Democratic Principles, have called for the immediate resignation of the Vice-Chancellor, as they blame him to the situation which has resulted in the indefinite shutdown of the tertiary institution and the imposition of a dusk-to-dawn curfew on the university enclave with heavy police and military presence on campus.

Also contributing to the programme, Dr Lord Mawuko-Yevugah, a Senior Lecturer and Head of Department for Public Management and International Relations at the Ghana Institute of Management and Public Administration (GIMPA), described the recent violence as unfortunate and entreated the university authorities to factor the views of the students into their decision-making.

He said he wishes that "we go to the basics where student leaders and school authorities work together as stakeholders in the management of our higher institutions. The tendency of seeing the students as children and, therefore, they should be imposed upon, that has to change"

"School authorities need to engage more and consult more so that they can work in harmony to achieve stability and a good environment for learning on our campuses," he told host Benjamin Akakpo.