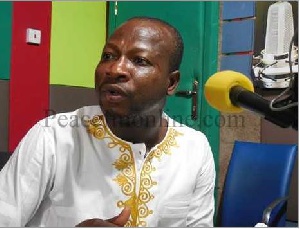 James Kwabena Bomfeh has lambasted authorities of the Kwame Nkrumah University of Science and Technology (KNUST) for their adamant position on the transformation of University Hall (Katanga hall) into a mixed one.
The Director of Elections for the Convention People's Party (CPP) wants the University authorities to stop treating the students as kids, stressing that such attitude will only inflame passions.

According to him, University students are no more children and so the authorities should adopt a better approach to address the concerns of the agitated students.

Students at Katanga Hall of the KNUST, on Monday, October 22, 2018, embarked on a violent demonstration against the University authorities.

Their action followed the arrest of the 11 students of the University Hall (Katanga Hall) who were arrested Friday night for engaging in illegal 'morale' activities (illegal assembly and violent behaviour) which included drumming during a hall week celebration.

The Students' Representative Council (SRC) of the KNUSTSRC Executive Council in a statement titled: ACTION NOW, ENOUGH IS ENOUGH, implored students to abandon the lecture halls today (Monday, October 22, 2018) for the demonstration against police brutality of students

The students thronged the streets on campus in their numbers, clad in red and amidst the protest, vandalized several properties including the office and car of the Vice Chancellor, Professor Kwasi Obiri-Danso.


They overturned cars and smashed louvre blades at the administration block of the school.

The students are also protesting against a decision by the Vice Chancellor and the authorities to turn the all-male Katanga hall into a mixed hall with females.

The campus of KNUST has been relatively rowdy following the conversion of some all-male halls into mixed ones.

Speaking to host Kwami Sefa Kayi, James Kwabena Bomfeh popularly called Kabila wondered why he University authorities would dare make such a move.

He explained that Katanga hall was made an male-dominated hall for a reason, and so expressed disagreement with the decision by the Vice Chancellor to turn it into a mixed hall.


He advised the authorities to give ears to the students saying "we're humans and we're reactive beings. If you suppress a person to an extent and this attitude that it's children that are in the University, our University administrators must rise above it. No one is a child anymore".

Meanwhile, military and police personnel have been deployed to restore order on the campus after some students destroyed at least 20 vehicles and other university property during a protest.

The 20 vehicles were mainly private vehicles belonging to the staff of the school and were destroyed at the main administration block of the school.