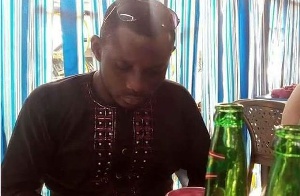 Joseph Frimpong Addo, accountant for the Electricity Company of Ghana (ECG) in the Suhum municipality of the Eastern Region, has allegedly committed suicide in an uncompleted building.
The deceased was found in one of the rooms of his uncompleted house at Okorase, a suburb of Suhum, Wednesday morning.

According to police reports, the deceased is believed to have drunk weedicide – a liquid substance used to kill weeds – leading to his death.

Frimpong Addo's body has been deposited at the St. Joseph's Hospital in Koforidua pending autopsy.
It's unclear what caused him to take the substance but sources said his health was failing him of late and so he might have taken the action out of frustration.

The Eastern Regional Public Relations Officer of the Ghana Police Service, ASP Ebenezer Tetteh, confirmed to this paper that the police was led to an uncompleted self-contained building and inspection revealed that both the front and the rear doors were locked from inside.

According to the police, the door was forced opened and the body of Joseph Addo Frimpong was found lying in one of the rooms.