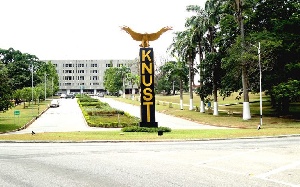 The various labour bodies at the Kwame Nkrumah University of Science and Technology have announced that all services that have been suspended on the campus have been restored after government swore in a new Council earlier today.
In a Press release signed by the President of the various labour bodies such as TEWU, UTAG, GAUA, SSA and all others, expressed their profound gratitude to all stakeholders who were involved in the resolution process that restored normalcy on campus.

The group also thanked the Government for level headedness and enormous magnanimity in the resolution of the impasse which led to the eventual restoration of the KNUST Council and also paved way for the immediate resumption of Normal academic work at the University.

They also thanked the Asantehene, Otumfuo Osei Tutu II who happens to be the Chancellor of the University, for his wise counsel and great intervention which has led to the resolution of the impasse and shortened the period of uncertainty and trepidation.

They finished by appreciating the media for their clear and elaborate reportage of the concerns of the various labour bodies at KNUST to the public.
Normal Academic work is expected to start on Friday 16 November 2018.

Below are copies of the statements