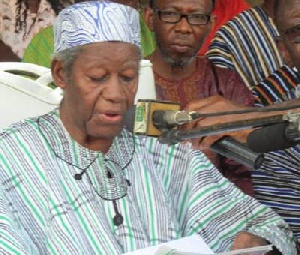 Mon, 26 Oct 2015 Source: Class FM
The suspended Chairman of the main opposition New Patriotic Party dug his own grave by serially disrespecting and snubbing not just the flagbearer Nana Akufo-Addo, but also the party's elders, Chairman of the Council of Elders, C K Tedam has told journalists.
Mr Afoko, according to Mr Tedam, exhibited gross disrespect to the elders and flagbearer by storming out of several meetings and also refusing to appear before them despite several invitations.

"…The party was simply in his pocket…," the aged Elders' Council Chairman said Monday October 26.

Mr Afoko, the NPP's first-ever elected northern Chairman, was, by a unanimous decision of the party's National Executive Council (NEC), suspended indefinitely per the recommendations of the disciplinary committee on Friday October 23. He has been accused of an array of alleged misconduct.

Though he insists he remains Chairman, the flagbearer has asked party members to respect the Committee's decision.

"…Having observed the way things were going, we were going into disaster so we petitioned to the disciplinary committee…they in turn invited Paul Afoko just like the Council of Elders invited him and he refused," Mr Tedam told journalists.

"I went to talk to him myself, he refused to come. We wrote to him officially so that he will reply officially because our idea is to bring peace and harmony to the party. As fathers and mothers of the party, it was not our intention to impeach him because we thought that will take time and it will disorganise the party a little so we asked him to come and explain why he is not cooperating," he added.
According to him, ever since Mr Afoko was elected Chairman about a year ago, he has not been going to the party's office.

"He said he is afraid of his own shadow. We have done everything possible and the disciplinary committee also did all that they could with our support to bring him for discussions and he himself did not cooperate at all," Tedam noted.

According to him, Mr Afoko's persistent snubbing of the elders left them with no option than to resort to the party's structures in dealing with the situation.

"…We believe that the only way we can handle this matter is to let the disciplinary committee take it upon themselves because he can't be judged in his own case and we only asked that he should be disciplined and should be asked to wait until things are put in shape. We planned to bring peace, but Chairman Afoko would not just cooperate," he added.

Mr Afoko, nonetheless, insists he remains chairman and has challenged the legality of his suspension.
Source: Class FM