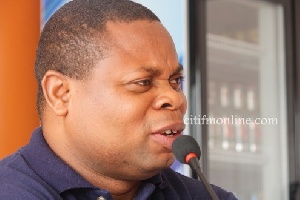 Mr. Franklyn Cudjoe, President of the policy think tank IMANI Ghana, has dismissed the governing New Patriotic Party's (NPP) alleged 103 achievements in 100 days as stated by Vice President Mahamadu Bawumia.
Last Monday, at a town hall event organized by Accra based Joy FM, Vice President Dr. Mahamadu Bawumia stated that the Nana Akufo-Addo administration has already delivered on 103 achievements in its first 100 days in office.

"We did not make any promises for 100 days; we made promises for what we wanted to deliver to Ghana during our term in office.

Notwithstanding that, the government, under the leadership of what I can say is our workaholic President, can point to some significant achievements in these last 100 days." Contributing in a panel discussion on the Big Issue on Saturday April 22nd, Mr. Cudjoe comically stated that the 103 achievements should have "consolidated" to 25.

Although the President of IMANI Ghana conceded that the current administration was as yet doing a good job on the country's economy, he stated that there really couldn't have been able to do as much. "There is one that said they cut sod for the National Cathedral.
You guys kept telling the NDC that cutting sod was not an achievement.

To be fair, this should have been reduced to 25. It should have been 25 consolidated. It should have been consolidated around the economy because in 100 days really, you couldn't have done that much.

The 100 things could have been consolidated to 25." According to Mr. Cudjoe, though IMANI Ghana has moved away from trying to grade the performance of the governing administration, even though it's relatively easy.

He did although state that according to him, the administration's performance till date was "satisfactory".