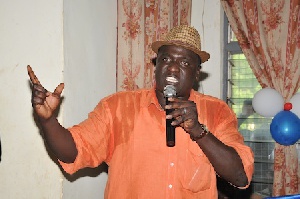 Fri, 6 Nov 2015 Source: peacefmonline
The Deputy Communications Director of the New Patriotic Party (NPP), Anthony Abeyifa Karbo says there is a deliberate attempt to sabotage the party's flagbearer, Nana Addo Danquah Akufo-Addo, by a particular group of people in the party.
"Why are they are doing that; I don't know, but this cannot be a mere coincidence that anytime Nana Addo is doing something very important... another issue which disturbs the party's peace and takes away the shine of Nana Addo's activity comes up..."

On Wednesday, the flagbearer of the party, Nana Addo Danquah Akufo-Addo delivered a speech at the 15th-anniversary celebration of the Tertiary Students Confederacy (TESCON) held at the Mensah Sarbah Hall, University of Ghana, Legon.

Later that same day, unconfirmed reports emerged that a group was organising itself to demonstrate against the suspension of NPP's National Chairman, Paul Afoko.
The next day, a group calling itself Concerned Supporters of the NPP thronged the head office of the party with placards demanding the reinstatement of the National Chairman.

Reacting to this in an interview on Citi Eyewitness News, Anthony Karbo said there is a deliberate attempt to sabotage the party's flagbearer because instead of talking about the 'essential' issues raised by Nana Addo at the Mensa Sarbah Hall, the focus is rather on a group of people who demonstrated at the party's headquarters.

"This is not the first time this is happening...we have observed this particular trend for some time, and it is quite worrying. It cannot be sheer coincidence...at all point, we must ensure that the flagbearer is projected; he is the one who must take the shine because he is the one that people are going to vote for...that is why party people are concerned about the almost deliberate attempt to divert public attention from activities of the flagbearer. We are very concerned about it...we must give the flagbearer the peace of mind…"
Source: peacefmonline