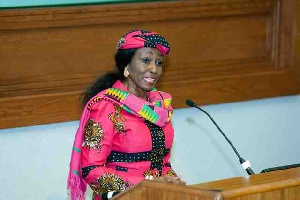 The flagbearer of the National Democratic Party (NDP), Nana Konadu Agyemang Rawlings has descended on the government for shirking its responsibilities to the state to engage in electoral campaigns ahead of the December polls.
"There is too much abuse of incumbency which is usually normal for a ruling government in such a season but this is really outstretched."

"The country is currently going through difficulties and it would be good to see that some people in government are working to keep the country running while others campaign but at the moment, it looks like government business is at a halt because of campaigns," she grumbled.

Mrs. Agyeman Rawlings made the comment at the unveiling of a multipurpose news hub of TV3 Network Limited in Accra yesterday.

It was attended by the Independent presidential candidate, Jacob Osei Yeboah, the Greater Accra Regional Chairman of the National Democratic Congress, Mr. Ade Coker, the Greater Accra Regional Minister, Nii Laryea Afotey Agbo, some traditional rulers and senior media practitioners in the country.
Mrs Agyeman-Rawlings said it was important that government balanced its campaign by placing the interest of Ghanaians above 'petty politicking'.

The flag bearer of the NDP called on fellow politicians to use temperate language in the heat of campaigns to set a good example for the youth.

"You can make arguments and come out with your dissatisfaction about whatever is going on without using foul language," she stated.

Mrs Agyeman-Rawlings implored the media to give equal and balanced reportage for all political parties "so that each party would feel a part of the democratic dispensation that is going on".